Spiced Golden Beet & Pumpkin Couscous with Cilantro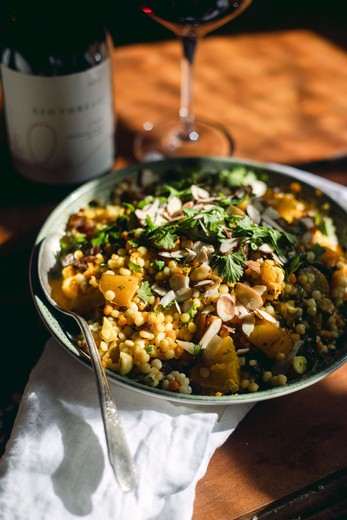 Recipe Date:
October 31, 2023
Measurements:
Imperial (US)
Ingredients
1 large golden beet, peeled & diced
1 small sugar pumpkin, deseeded and cut in half
extra virgin olive oil
2 cups cups tri-color couscous
1/2 cup cup dried Turkish apricots, diced into small chunks
1 shallot, minced
2 garlic cloves, minced
1 tsp ground turmeric
1 tsp fresh grated ginger
1/2 tsp cumin seed
1/2 tsp sweet paprika
dash of ground cinnamon
1 large handful cilantro, roughly chopped
1/2 cup slivered almonds
salt to taste
Directions
Preheat the oven to 400 degrees F and line a rimmed baking sheet with parchment paper.
Add the golden beets and sugar pumpkin to the baking sheet. Drizzle both with olive oil and a pinch of salt, Place the pumpkin cut side down. Roast for 30-40 minutes until the beets are tender, and you can insert a knife with ease into the pumpkin. Remove the beets if they finish before the pumpkin.
Meanwhile, prepare the couscous according to the package instructions or bring 3 cups of water to a boil in a medium-sized pot. Once it's boiling, add the couscous to the pot, cover the pot, and bring it down to a simmer. Cook for 13-15 minutes until tender and soft.
Add the couscous to your serving bowl. Add the apricots, garlic, shallots, turmeric, ginger, cumin seed, paprika, and a dash of cinnamon. Generously drizzle with olive oil.
Once the pumpkin is tender, run it under cold water for a minute until it is easier to handle.
Remove the skin and roughly dice up the pumpkin into chunks.
Combine beets, pumpkin, and cilantro with the couscous. Season with salt to taste.
Garnish with another drizzle of olive oil and sprinkle on the silvered almonds.
Serve warm or cold.