Porcini Mushroom and pasta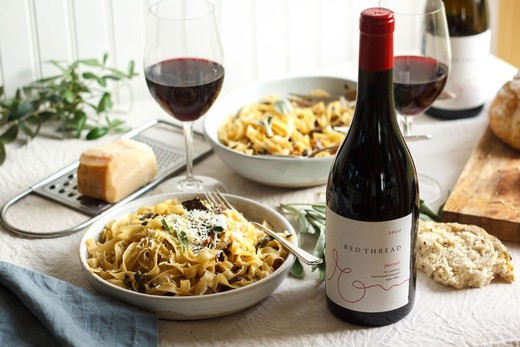 Recipe Date:
June 30, 2022
Measurements:
Imperial (US)
Ingredients
1 cup chicken stock
1/2 cup dried porcini mushrooms
extra virgin olive oil
1 shallot minced
1 handful baby bell mushrooms
3 garlic cloves, minced
kosher salt
1 lb fresh or dried tagliatelle pasta
1 tbsp minced fresh sage
1/4 cup heavy cream
1/2 cup grated parmesan
1/4 cup chopped walnuts
cracked black pepper
1 tsp grated black truffle or truffle oil
Directions
Add the chicken stock to a small saucepan and bring to a boil. Pour the hot chicken stock into medium sized bowl.
Bring a large stock pot of water to a boil with a generous amount of salt. (The water should be as salty as the ocean.)
Add the porcini mushrooms to the chicken stock and allow them to sit for 30 minutes.
Meanwhile, add 3-4 tablespoons of olive oil to a large sauté pan over medium-low heat. Continue to add the shallots and baby bell mushrooms to the pan and sauté until the shallots begin to turn translucent and the mushrooms are tender, about 8 minutes.
Drain the porcini mushrooms over a small bowl and reserve 1/4 cup of the chicken stock. Roughly chop the porcini mushrooms and add them to the shallots and mushrooms. Cook for a few minutes, stirring frequently.
Add the garlic and continue to sauté until fragrant. Season with a pinch of kosher salt and turn off the heat.
Once the water is boiling, add the pasta and cook according to the package instructions or until just al dente.
Drain the pasta and reserve 1/2 cup of the cooking water.
Add the pasta to the mushroom sauté pan and add in the reserved porcini soaked chicken stock and reserved cooking water.
Continue to add the minced sage, heavy cream, and parmesan, and chopped walnuts to the pasta. Gently toss everything together until the noodles are coated in a silky and creamy sauce. If using truffle oil, drizzle in one teaspoon and toss together.
Serve the pasta immediately with additional freshly grated parmesan and black pepper on top and the optional black truffle flakes. Garnish the pasta with a few fresh sprigs of sage.