Grilled NY Strip Steak with Roasted Cherries & Gorgonzola Herb Butter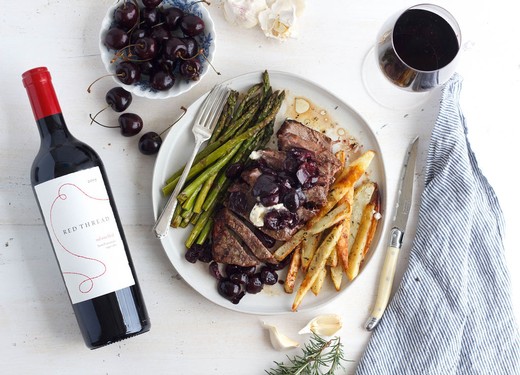 Recipe Date:
June 30, 2022
Measurements:
Imperial (US)
Ingredients
2 lbs 1-1.5 lb NY strip steaks
1 tbsp fresh minced rosemary
1 1/2 tbsps fresh thyme leaves
3 garlic cloves, minced
1/4 tsp teaspoon red pepper flakes
extra virgin olive oil
kosher salt
8 ozs bing or rainier cherries, pitted and halved
scant teaspoon quality aged balsamic vinegar
2 ozs gorgonzola
4 tbsps unsalted butter, softened
1 tbsp fresh minced garlic chives
1 tsp herbs de Provence
cracked black pepper to taste
Directions
Preheat the oven to 400 F degrees.
For the marinade, combine the rosemary, 1 tablespoon of thyme leaves, garlic, red pepper flakes, and black pepper into a small bowl.
Remove the steaks from the fridge and place them onto a platter. Drizzle the steaks with 3-4 tablespoons of olive oil, just enough to coat each side. Sprinkle each steak evenly with the marinade rub and a generous pinch of kosher salt on both sides.
Place the steaks into a plastic Ziplock bag or container and allow them to marinate for at least 1 hour.
Meanwhile, prepare the cherries by gathering a large roasting tray lined with aluminum foil.
Add the cherries to the roasting tray and liberally drizzle them with olive oil and the balsamic vinegar, lightly coating them. Sprinkle 1/4 teaspoon of kosher salt and the remaining 1/2 teaspoon of thyme over the cherries.
Roast the cherries for 10 -12 minutes, turning them occasionally until they are soft and slightly caramelized. Their juices will begin to run and create a sticky and sweet syrup. Once they are roasted, set them aside to slightly cool.
Continue to prepare the herb butter by roughly crumbling the gorgonzola and combing it into the softened butter with the garlic chives, herbs de Provence, and 1/2 teaspoon of kosher salt. Use a rubber spatula or a spoon to roughly combine the ingredients, leaving a few bits of whole gorgonzola pieces. Now using your hands, roughly form the gorgonzola butter into a small round log and wrap it in plastic wrap. Set it in the fridge to re-harden for about 30 minutes.
Remove the steaks from the fridge and allow them to come up to room temperature. Preheat the grill to high heat.
Once the grates are nice and hot with an internal temperature of at least 350-400 F degrees, place the steaks onto the grill.
Grill the steaks for about 5-8 minutes on one side and cover the grill. Take a peek at the bottom, it should be nicely browned with distinct grill marks and a good crust. Flip them over and cover the grill and continue to cook for another 5-7 minutes for medium (130°-140°F internal temperature.) For medium-well done (150°-160°F), cook for another 2-3 minutes.
Once the steaks are cooked to your desired preference, remove them onto a cutting board and allow them to rest for 15 minutes.
Remove the hardened gorgonzola butter from the fridge and cut out two 1/4-1/2" thick rounds.
To serve, place the steaks onto each plate with a round of the gorgonzola butter on top followed by a few spoonfuls of the roasted cherries on top.
Serve immediately with additional fresh rosemary, roasted asparagus or garlic herb fries (following recipe.)